HINOTEK was founded in 2002, we started to produce and sale laboratory equipment in domestic market, After China enter into WTO, China became the world manufacture, so our laboratory equipment are widely and long time used in these labs and manufactures, and quality and technical is rip, so we intent to promote Chinese laboratory equipment to worldwide to improve the industry of these countries. We not only produce pipette and microscope, also became the representative of many manufacturers in China. In year 2008, we establish HINOTEK GROUP LIMITED.
We will be entering our 17th year of business in 2018. Now we sell to many countries around the world. We have hundreds distributors who serve for thousands customers.
We sell many unique brands and products for all kinds of laboratory equipment such as microscope, spectrophotometer, lab incubator, oven, centrifuge, refrigeration, and numerous more.
If you are already a HINOTEK distributor, thank you for your trust and loyalty. If you are not yet part of our family, give us a chance and let us show you what we can do. Our approach is one of consultative sales and support. We understand your needs and goals. We always will provide value in what you are looking for, whether it is interesting new technology for the lab or new products to increase efficiency in the lab.
Our success has come by treating our customers and employees with highest regard. When a company can take care of their team they will in turn take care of their customers the same way. Our customers are our lifeline and we will do our very best to bring only quality products to our scientists. We will get back to you in 24 hours. In essence we will do all the little things that many have forgotten.
At HINOTEK we have created our own culture, we only ask three things of our employees; work hard, have fun and take care of each other. We aren't your average scientific company, we like what we can do for you!
Thank You
George
Operation Manager at HINOTEK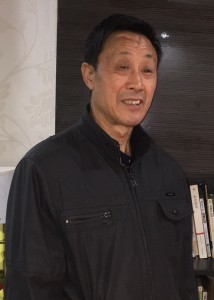 HINOTEK provides service for you sincerely!
George is the Operation Manager and Equipment Engineer of HINOTEK, and he has been engaged in designing, production and sales of laboratory instruments for long term.
He has worked in the industry of laboratory instruments for over 30 years. He once worked in a manufacturing enterprise of microscope for 10 years, and later acted as a maintenance engineer in a company of laboratory instrument. In 2002, China joined in WTO, and it has opportunities to provide cost-effective lab equipment products to the whole world, so George and Melinda cooperated to establish HINOTEK, our target is providing laboratory instruments with high quality that have been verified sufficiently in Chinese market to laboratory, hospitals and schools worldwide.